Installation of Officers and Speaker
Date:
Time:
3:00 PM - 5:00 PM
You're Invited!
Sunday December 3rd at 3:00pm
Join us for an afternoon of Coffee and Desserts, the Installation of Officers and a Special Program about End of Life Issues, featuring: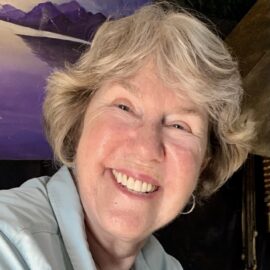 Dr. Diane Ashton, PhD of Psychology and End of Life Doula
Dr. Ashton is a Life Member of Hadassah who recently moved to the Tucson area from Vancouver, Washington. Let's give her a great welcome as she talks to us about End of Life Issues. You will also learn what an End of Life Doula does! Her program is entitled "What to Say When You Don't Know What to Say"
This event will be held at Congregation Bet Shalom, 3881 E. River Road, Tucson, AZ 85718 on December 3, 2024 at 3:00pm.
Friends, guests, and Significant Others are most welcome!
Admission cost $10 per person. This is a HYBRID event, with in-person or Zoom availability.
Please indicate if you are coming via Zoom or in person with your payment.
Register at events.hadassah.org/2023installation
If you'd prefer to send in a check, make it out to Hadassah and
mail to Marcia Winick by December 1st. For her address, please call (520) 886-9919.
~~~~~
Slate of Officers for 2024 for Hadassah Southern Arizona
Installing Officer: Rita Zohav
President: Roza Simkhovich
VPs Membership: Sue Colburn Strauss and Geri Rosen (Evolve)
VP Philanthropy and Program: Nancy Rosin
VP Education: Elinor Engelhard
Treasurer: Marcia Winick
Recording Secretaries: Diane Ashton and Rachel Green
Corresponding Secretary: Linda Kunsberg
Records Administrator: Carrie Jacobi

**IMPORTANT: You must click "Process Payment" button TWO TIMES to complete your registration. Once registration is complete, you will immediately receive a confirmation email. If you do not receive a confirmation email your registration is not complete. Need Help? Send an email to hadwest@hadassah.org**
Donation Questions
(800) 928-0685
Membership Questions
(800) 664-5646
Israel Travel
(800) 237-1517
Contact Us
40 Wall Street
New York, NY 10005